The Greater Phoenix multifamily market continues to maintain a torrid pace, driven by a combination of population growth, an economy that's among the country's strongest, and persistently pricey residential real estate. While there are indications that Phoenix home prices are starting to stabilize, many would-be buyers remain in locked in rental mode.
Thanks to that unrelenting demand, rental rates have persisted in their upward surge. Unfortunately, renters can't anticipate a break anytime soon, with Yardi Matrix projecting a rise of 6.1% this year. The fact that Phoenix's average rental rate is lower than the U.S. average ($1320 vs. $1430) is not much comfort when the bill comes due.
Ready to find out more?
Contact the experts at R.O.I. Properties today!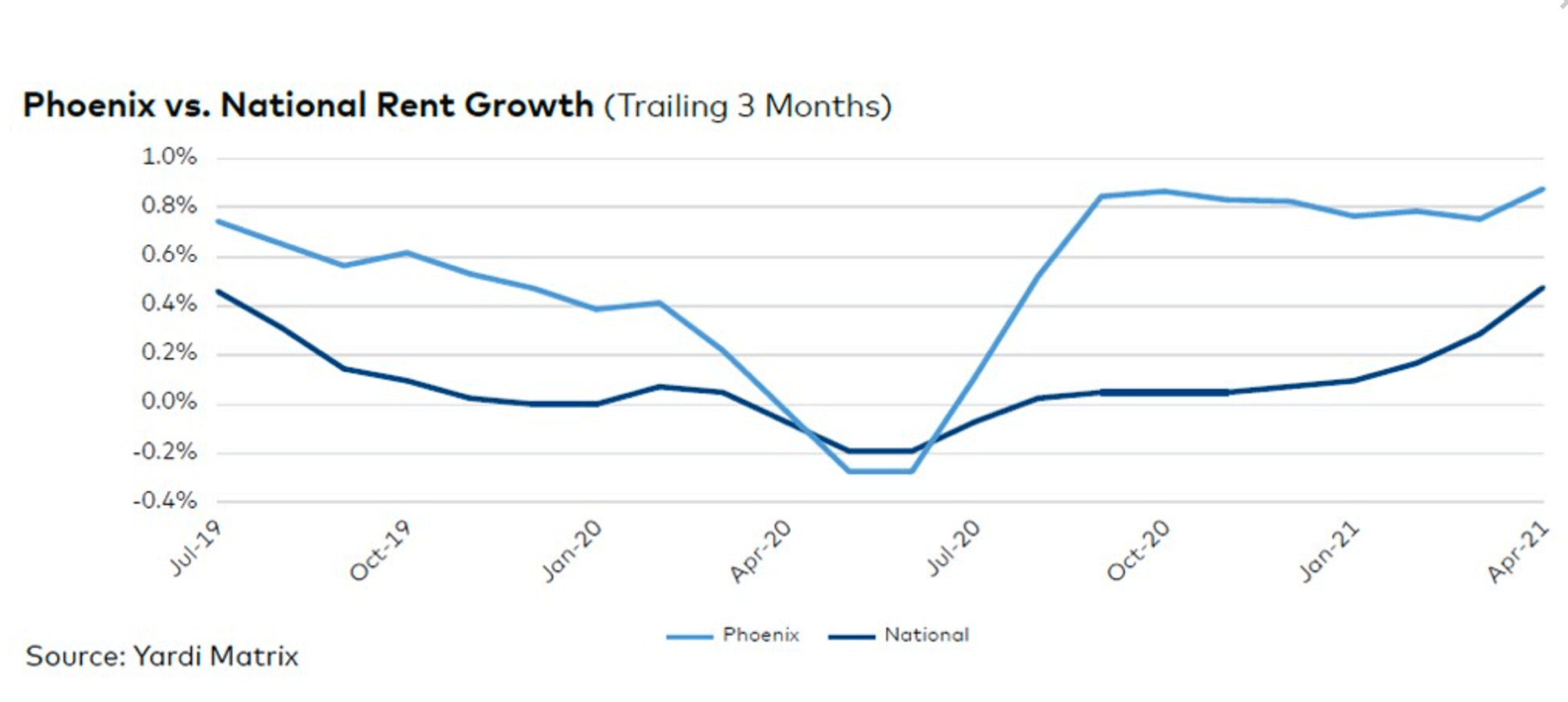 On the business side of the equation, multifamily net absorption has climbed to record highs and outpaced new supply by a wide margin. In addition, with $2.38 billion in sales, Phoenix was the second-strongest U.S. metro for multifamily investment during the first quarter.
Challenges Ahead for Phoenix Multifamily Properties
While multifamily properties for sale in Phoenix have been hot, there are reasons for concern about what happens next. A significant wave of deliveries will hit the market over the coming few quarters, so landlords must plan for heightened competition. While the construction pipeline is focused nearly exclusively on top-tier (Class A) rentals, demand for affordable units (B and C Class units) has surged. This supply-demand mismatch will likely push up Class A vacancies in the near term—with the potential for driving Class B and C rental rates higher and vacancies even lower as people scramble for their most affordable housing options.
A second looming issue is construction costs, which have gotten a lot of press in residential homebuilding but are hitting multifamily properties as well. The U.S. experienced a two-decade record rise in construction costs from Q1 2021 to Q2 2021, with an increase of 2.9%. Phoenix led the nation with a 4.29% increase.
A third question mark is the impact of FHFA's extension of COVID-19 forbearance for multifamily property owners and tenants. Originally set to expire at the end of June, they are now valid through September 30, 2021. With further stimulus payments seeming unlikely at this point, this could be problematic for property owners and renters that are currently in precarious financial situations.
A Look Inside the Multifamily Stats
Here's an overview of the trends that R.O.I. Properties is tracking:
Vacancy rates: Overall vacancies remained low at 5.0% in May, but the three property classes performed differently: Vacancy rates in Class A properties rose from 6.0% to 6.5%, while Class B fell from 3.8% to 3.6% and Class C dropped from 4.6% to 4.3%.
Rental rates: Through the end of May, 12-month asking rents were up 17.2% and effective rents up 18.1%—again setting new quarterly highs. Across the market, landlords are relying less on concessions to lure renters to their properties than they had during the pandemic. Just 12% of communities surveyed in May were offering concessions, down from 30% one year ago. Concessions of two to four weeks are typical at newly built properties, but the incentives vary widely based on location.
Construction: 12-month deliveries topped 9,000, and about 20,500 units are underway. Downtown Phoenix continues to be a prime destination for multifamily development, with new supply concentrated near Roosevelt Row Art District. Hubbard Street Group recently broke ground on another luxury high-rise: the 309-unit Skye on 6th. Within a half-mile radius there are six other luxury apartment buildings, with a total of 1,600 units under construction.
Sales: The buyer pool continues to expand, even with cap rates compressing below 5% in all three property classes. While local investors drive most of the volume, out-of-state interest has steadily grown. In one of the year's largest sales, a New York-based pension fund advisor acquired the Almeria at Ocotillo apartments in Chandler for $129 million ($332,260/unit).
Contact R.O.I. Properties
R.O.I. Properties represent investors, owner-occupants, lenders, and fiduciaries in buying, selling, and leasing commercial real estate throughout the Greater Phoenix market and the state of Arizona. Whether you need help investing in properties (mainstream or distressed properties), we are full-service real estate brokers who handle all commercial asset classes. In addition, we serve as Fiduciaries through court appointments as Arizona Receiver, Real Estate Special Commissioner/Special Master, Chapter 11 Trustee and Liquidating Agent, as well as REO broker. To put an expert advocate on your side, contact us at [email protected] or 602-319-1326.