Business is booming in Phoenix, Arizona. The gross domestic product has gone up 5% each year for the Greater Phoenix Area since the bottom of the Great Recession in 2009 according to FRED data.
Additionally, the commercial real estate market is on fire. The number of vacancies for industrial, retail, and office space is at or near the lows for the last four years, except for retail space. This situation means that the market is tight, and it is a sellers' market at the moment.
With commercial real estate inventories at lows, this means that there are fewer properties available and that current owners will be looking for higher lease rates and sale prices. When the commercial real estate market is in this type of situation, businesses looking to secure a new location to consider their options carefully.
A Look at Square Footage for Sale and Leasing Rates:
The following charts show the trend in total square footage available for sale for industrial, office, and retail properties, all charts are from: LoopNet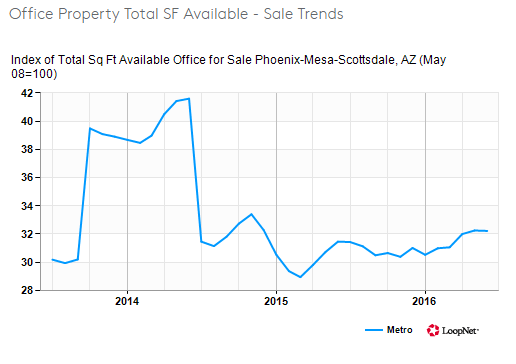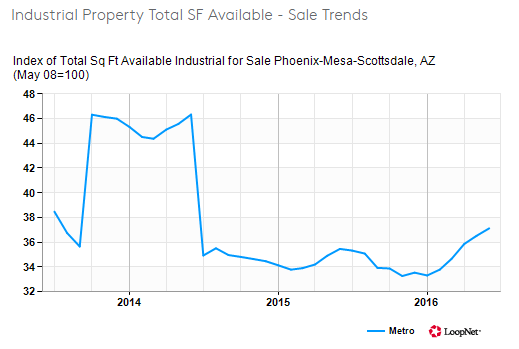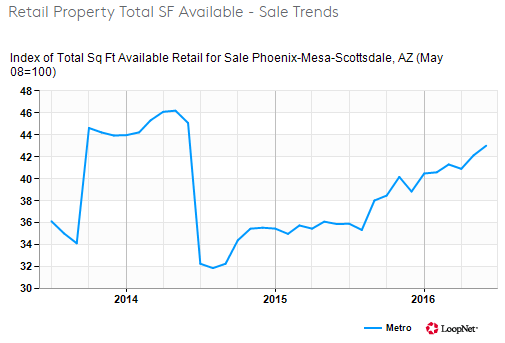 The following charts show the trend in leasing rates for industrial, office, and retail properties, all charts are from: LoopNet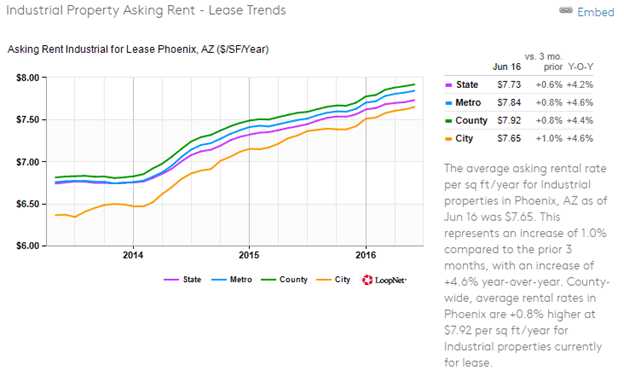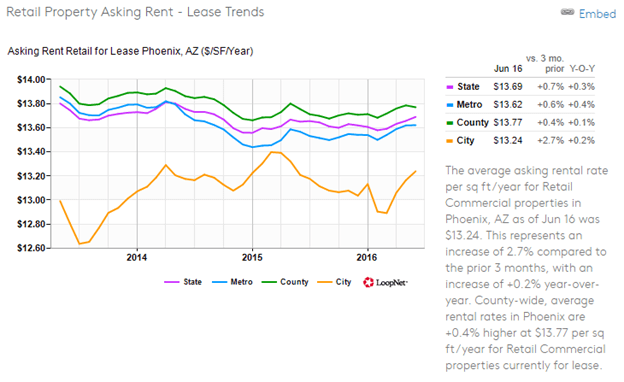 The information in these charts tells us that there is more retail space available for sale and that the cost of leasing retail space has not gone up significantly over the last four years. Both the industrial and office space real estate sectors remain tight as lease rates have been rising steadily and there has been no recent significant increase in inventory over the last four years.
Depending on your sector of business, you may have an easier or harder time finding new space for your business. To find the best property for your business, seek a knowledgeable commercial real estate broker. When looking for a commercial real estate broker, you want to be sure they have experience, understand the industry landscape that you are in, and are well networked in your local area.
Three Arizona Commercial Real Estate Sectors
Industrial Real Estate Market
The industrial real estate market as seen from the charts above has been strong over the last four years. Some of the larger businesses that have been moving into the area over the previous year include Conair and UPS. While market supply has been decreasing large amounts of space, have been added as well. This is demonstrative of growing demand over the last four years. Between 2014 and 2016 about 6 million square feet of industrial workspace was added each year and 7 million square feet were added in 2017. If industrial businesses continue to move into the area at the current rate the market will become tighter.
Office Commercial Real Estate Market
Much of the recent activity in the office commercial real estate market in Phoenix has involved companies making lateral moves, primarily in relocation to places for convenience reasons. While the market has remained tight, this means that office space vacancy choices are more robust than in the industrial sector. One example to note is Quicken Loans; they are moving into a 150,000 square foot space in downtown Phoenix this year.
Retail Real Estate Market
The retail real estate market in Phoenix is lagging compared to other sectors. Vacancies appear as though they may start trending down again this year. The primary factor bringing this market down is the closing of big-box stores in the area due to a loss of brick and mortar business, to e-commerce. The downtown Phoenix area remains vibrant and full of pedestrian traffic ready for unique shopping experiences. If you are interested in buying or leasing retail space, the market is in your favor.
What Sets Apart Arizona When it Comes to Owning or Leasing Commercial Real Estate?
The Arizona Commerce Authority has been working to create a friendly business atmosphere for the "Grand Canyon State" since 2011 when Governor Jan Brewer established it by executive order. The focus of the organization has been to attract and retain business and jobs to the state.
The Arizona Commerce Authority offers grants and other types of assistance for startups and business relocations. They have worked with the state government to bring business tax rates down and helped to get Arizona ranked as the ninth lowest cost state in the nation to do business. Arizona has the sixth lowest property tax rate in the country and the fourth lowest unemployment insurance tax rate. They have also been working to cut red tape in tax filing procedures and have streamlined the process to cut out the need for tax licenses and multiple audits.
The state has even gone so far as to allow businesses in need of crowdfunding to sell equity to the public as well as other firms in exchange for funding. From all of these innovations, it is clear that Arizona is a very business-friendly state, looking to help all stages and sizes of business.
Whether you are looking to start a new business or relocate your current business to the Phoenix area, you will benefit from the favorable business climate when purchasing commercial real estate. The smart way to go about finding where you will realize the most significant savings will be to talk to a savvy commercial real estate broker in the Phoenix area.
Finding the Right Broker for You
R.O.I Properties offers decades of experience in the commercial real estate industry in Phoenix, Arizona. Our brokers can help you figure out what the individual pros and cons of owning vs. leasing would be for your company, industry, and stage of business development.
Call us today. We would love to help you get the best commercial real estate deal possible in the Phoenix, AZ area.