Particularly with the proliferation of short-term-rental platforms such as Airbnb and Vrbo, single-family homes for rent in Greater Phoenix are a prime example of the intersection of residential and commercial real estate. In fact, many strictly commercial investors have moved into the single-family space due to the value, and are successfully operating large portfolios of homes for rent.
The success of the short-term-rental (STR) model hasn't been without its detractors, however, due to noisy parties, trash, parking, and other more serious problems such as a recent shooting at a property in Scottsdale. A new law passed in July and taking effect in September, Senate Bill 1168, is the state's attempt to curb the negative issues for local communities while still allowing vacation-home renters to benefit from the revenue. (Note that home-sharing boosts Arizona's bottom line as well—Airbnb alone generated $87 million in taxes from 2017 to 2020.) 
This is not the first legislation on the short-term rental front at the state or municipal level. The new law represents a significant change from a 2016 law that prevented cities from regulating STRs differently from long-term rentals—although it maintains the original preemption law, which prohibits cities from banning or limiting the number of short-term rentals in their jurisdictions. In 2019, a law allowed municipalities to restrict rentals to overnight stays and prohibit events that otherwise would require a permit, such as weddings, and added hefty financial penalties for repeat offenders. 
How Arizona's Short-Term Rental Rules Are Changing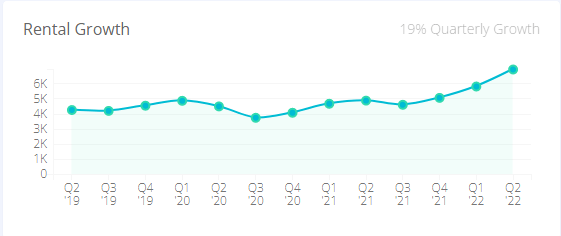 Whether you have long-term plans to offer your home as a vacation rental or want to capitalize on visitors coming to the 2023 Super Bowl, WM Phoenix Open, and MLB Spring Training, you will want to stay alert to how your city adopts the new regulations. At a glance, here are some of the possible changes in store:
Requirements for operators to have local licenses, permits, contact information, and proof of compliance with tax and other laws and regulations.

Requirements to provide contact and other information to nearby single-family residential properties.

New fines for violations, and a three-strike rule for suspension of a permit if a rental has three or more health and safety violations within a 12-month span.

More serious violations such as a felony offense, wrongful death, or intentional housing of a sex offender at a property could result in an immediate suspension or revocation.

Requirements to maintain $500,000 or more in liability insurance or operate through an online rental platform that offers similar coverage.
What's Ahead for Vacation Rentals
Municipalities with significant short-term rental markets such as Scottsdale, Phoenix, Sedona, Flagstaff, and Lake Havasu City can be expected to be among the first movers on creating new ordinances. As the host of the Super Bowl, Glendale could add to the new ordinances they created in May, which require short-term rental properties to provide contact information to the city and prohibit them from operating retail or adult-oriented businesses. Sedona, where almost 1,000 of its 6,600 housing units are used as short-term rentals, launched a program in August offering up to $10,000 to property owners who delist from STR platforms and offer long-term rentals to local workers instead.
Even with the new law, opposition to Airbnb, Vrbo, and other STR entities will undoubtedly remain in areas of the Valley and elsewhere in Arizona. Some would still like to see a cap on vacation rentals in the future, including limits on investor-owners and the number of guests allowed at a property. Although SB 1168 should help curb some of the abuses by "bad actors" in the vacation rental space, housing costs remain high and residential housing supply remains historically low. 
Contact ROI Properties to Learn More About Arizona Rental Properties!
 Contact us today to learn how we can help you find the perfect rental property, or sell your existing property for the highest and best price: [email protected] or call 602-319-1326.