It has been a few weeks since we last addressed the state of Phoenix office real estate. Anecdotally speaking, if you walk into an office today, you are still likely to encounter only 10% or so of the people that you would have seen at this same time last year. In particular, law offices, financial services and other professional offices are among the most affected by the work-from-home/work-from-anywhere (WFH/WFA) trend. A recent Wall Street Journal article noted that banks may be office landlords' new problem tenants, as finance companies have acquired new space more slowly than other sectors since the pandemic began. Can the office market navigate the rough waters ahead, or are we likely to see a wave of distressed properties coming on the Phoenix market into 2021-2022?
Behind the Numbers: Phoenix Office Real Estate
R.O.I. Properties is following a number of key metrics in the office market to track the future potential for distressed properties in this space:
Rollover exposure. As noted in our blog in early October, lease expirations are a potential red flag in the office sector of the commercial real estate market. Of the leases that will expire over the next year, an estimated 9.4% will expire in January, with another 8.9% in February and 10.3% in March. Whether tenants re-up, shrink their footprint, or vacate the space will dictate what this sector looks like into the summer. According to Trepp, nearly 11% of the office CMBS loans in the Greater Phoenix market are backed by tenants with leases expiring through 2022.
Delinquencies. Trepp statistics indicate the delinquency rate nationally for office loans dropped 22 basis points from October, with November coming in at 2.27%. While this is still better than lodging (22.1%) and retail (12.9%), one Trepp analyst predicts the rate could reach as high as 4.15% by July 2021. This asset class will likely see long-term impacts, as businesses will change their overall footprint to accommodate their actual needs, as many employees and their functions shift to a remote working environment.
Subleasing. The number of sublease space available can also be a warning sign, and this metric has increased throughout much of the U.S. this year. Sublease inventory in Greater Phoenix has increased 91% during this calendar year alone, from 1.73 million SF in 1Q 2020 to nearly 3.3 million SF currently. Note also that the year-over-year increase from 3Q 2019 is more than 125% in the Greater Phoenix area.
Office (as of 12/21/2020)
| | | |
| --- | --- | --- |
| | Phoenix Market | National Market |
| Cap Rate | 7.0% | 6.9% |
| Sales Price/SF | $218 | $321 |
| Sales Volume | $1.5B | $64.8B |
| Vacancy Rate | 12.7% | 11.2% |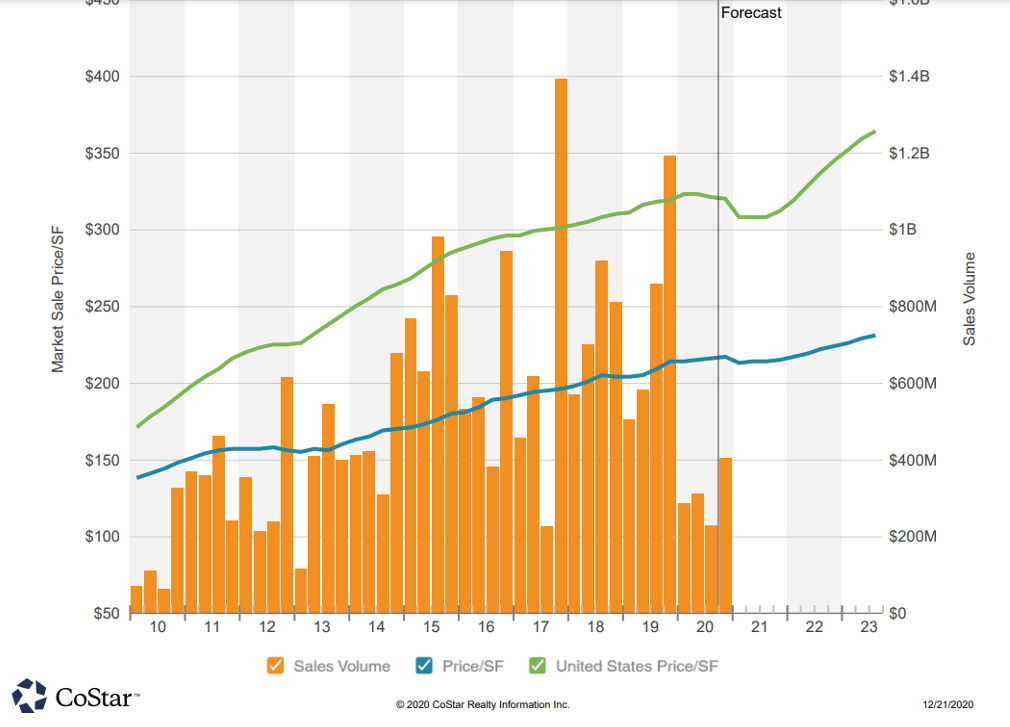 Office sales and prices. As the adjacent chart indicates, 2020 saw a dramatic slowdown in overall sales of office properties, with a slight uptick in Q4 so far. We also experienced a flattening in prices per square foot—although Phoenix's flat performance still outpaces what has occurred throughout the rest of the country in the office sector.
Construction. Progress continued undisturbed on construction projects that broke ground before the onset of the pandemic, with about 2.7 million SF of office space delivered in Greater Phoenix through November, according to CoStar. An additional 3.2 million SF is underway, and about half the space is available for lease.
The Way Forward in Office Properties in a WFH/WFA World
For the foreseeable future, offices will need to accommodate shifting employee preferences. The pandemic has accelerated the WFH and WFA trends, both as a matter of health concerns as well as increased flexibility (and no commuting). An October Pew Research Center survey found that "more than half of U.S. employees currently working from home say they'd like to keep their remote arrangements beyond the pandemic." A third of respondents want the option to telework, while just 11% said they rarely or never want to work from home. While the arrival of the COVID-19 vaccine brings hope for a return to normalcy, many workers will still be reluctant to return to pre-pandemic activities such as public transit, elevators and indoor dining.
Firms wanting to restart in-office work—especially those whose leases are up in the coming months—are thinking about what their next steps are, how much space they truly need, and how expensive it will be to reconfigure buildings to mitigate health concerns. So-called office hotel or guest office concepts are taking hold, as a way to accommodate the needs of workers who need space that is not permanent.
If you're looking for bright spots that could prevent a worst-case scenario in the office sector, the first would be Arizona continuing to benefit from in-migration in excess of 100,000 people a year—particularly from those fleeing high taxes and commercial real estate prices in California. In 2020, Chief Executive Magazine ranked Arizona at number 7 in their top ten best states for business, and the large number of headquarters relocations and expansions in the past few years supports that.
Second, office building owners are in better shape financially than they were during the Great Recession. Rather than steep rent cuts, CoStar anticipates that landlords will instead be negotiating concession packages. Earlier this year, Trepp noted an increase of more than 25% in the average spread between starting rent and net effective rent in major gateway cities, as well as an increase in the number of free months on a lease as a percentage of the total lease term. Given the trend toward shorter-term office leases that preceded the pandemic, we can expect that to play into the concession equation as well.
Thinking from Both Sides about Distressed Properties
R.O.I. Properties anticipates significant change in the office market that requires advance planning. In light of the trends, and as the number of defaults increases, lenders may want to look to Receivership to proactively address declining rent rolls, preservation and protection of their collateral, and to resolve distressed properties, potentially obviating the need for foreclosure. Under Arizona's recently adopted Uniform Commercial Real Estate Receivership Act (UCRERA), a Receiver can be authorized to wipe out subordinate lienholders, essentially functioning as Foreclosure by Receivership for distressed properties. Likewise, prospective buyers of office real estate with capital on the sidelines may stand to benefit from note sales and property receivership sales. Enlisting a distressed property brokerage, sometimes called a commercial REO broker or broker for bank owned properties, can help expose those opportunities as they arise.
R.O.I. Properties specializes in representing lenders, owners and buyers in buying, selling and leasing commercial real estate throughout the Greater Phoenix market and the state of Arizona. If you need help managing distressed properties—or are interested in investing in them—we are REO brokers and handle court appointments as an Arizona Receiver and Arizona Special Real Estate Commissioner. To put an expert advocate on your side, contact us at [email protected] or 602-319-1326.