Long-term leases and diverse tenant base have traditionally offered advantages for office properties as a commercial real estate asset class. As we first noted in a July blog post, Remote Work Leads to Subleasing and Cohabitating Trends, the office market is currently undergoing an era of rapid change.
While it's too early to know the future holds for the office real estate, there's no question that coronavirus dramatically accelerated the work-from-home (WFH) and work-from-anywhere (WFA) trends. Businesses are asking how much physical space they need to get the job done and maintain their culture. Some are already strategizing or implementing changes to floor plans and other environmental factors required to keep employees safe. Others are trying to figure out what to do with unused space when they are downsizing and perhaps struggling to pay the bills. On the other side of the table, landlords are faced with the challenge of maintaining occupancy and pricing strength when tenants have the upper hand.
Examining Two Indicators of Office Market Health
Part of the challenge of assessing the true occupancy rate in the office market is that default rates under current leases are not reported, and sublease numbers are not always accurate. As a result, the published vacancy rate of 12.9% needs to be taken with a grain of salt. In light of today's uncertain economic conditions and WFH and WFA trends, R.O.I. Properties is keeping a close watch on two specific metrics that could indicate headwinds ahead for the office market:
Indicator #1: Increased subleasing volume. For an increasing number of tenants, subleasing has become the answer: temporarily transferring part or all of their rental space to a third party. Nationally, the office market experienced a 21.8% rise in total office sublease space in the first half of 2020. Through the first four months of 2020, early in the pandemic, the Phoenix area saw a nearly 28% increase in office space available for sublease. Even more strikingly, sublease inventory has increased by 124% from Q3 2019 to Q3 2020.
As a percentage of overall inventory in the Phoenix office market, subleasing remains minimal, at around 1.6%. Still, if you look at how subleasing relates to available inventory, it may very well be an early indicator of what is to come in vacancy rates.
In addition, sublease rates tend to be significantly lower than direct rentals (as these are a mitigation strategy for tenants to recover a portion of their lease obligations), compounding the existing downward pressure on leasing rates for office properties. For tenants seeking an upgraded, fully furnished space, subleasing represents a potential opportunity. Some landlords may even work with subtenants to extend the subtenant's term by picking up a direct lease to round out the lease term.
Indicator #2: Impending lease expirations. Another metric that R.O.I. is watching closely is the volume of leases that will come due near term. The chart below displays both the amount of square footage and the percentage of tenants with expiring leases. While the data is limited and dependent on how the broker submitted the lease terms when the lease was originally signed, it still gives a 30,000-foot view of what could lie ahead. Depending on the number of tenants who choose to downsize on space or simply choose not to renew their leases, the next few months could see a significant uptick in vacancies.
The trickle-down effect lands squarely on landlords, whether they are dealing with a termination, square-footage reduction, or competing sublease space. In a best-case scenario, the economy continues to strengthen and tenants decide a physical presence delivers appropriate return on investment. In a worst-case scenario, it could mean lease and potentially loan defaults, and a dramatic increase in office market supply.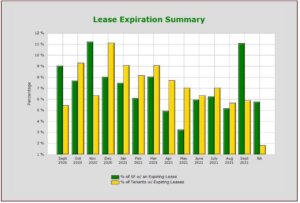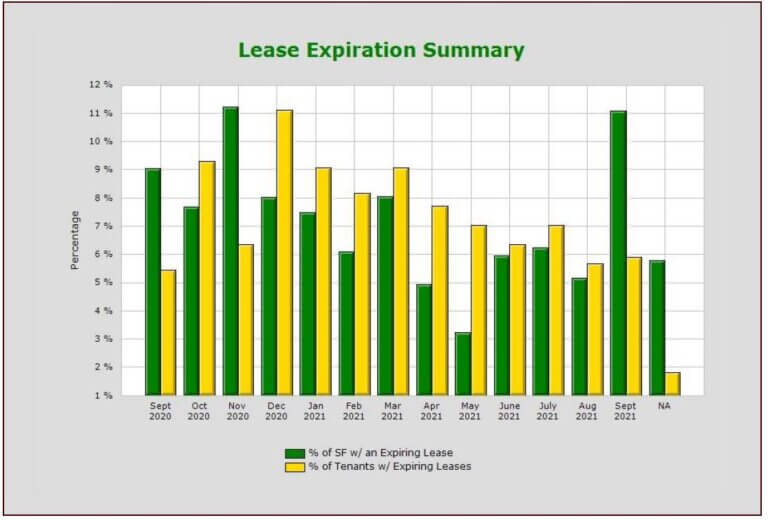 The Phoenix real estate market is in a state of flux unlike anything we've seen in recent years. To put an expert advocate on your side for buying, selling, or leasing commercial real estate, contact R.O.I. Properties at [email protected] or 602-319-1326.