Home prices in Phoenix from March-April were historic, and the market likely saw a peak in mid-April, when rates hit 5%. The double whammy of higher mortgage rates and increased pricing for consumer/homebuyers meant that many buyers were really priced out of the market and the Greater Phoenix area was no longer affordable. Since then, rates have ticked up slightly higher—5.5% as of mid-July. At about this time last year, the question was when Phoenix home prices would start to stabilize. Now the question is: With interest rates projected to continue going up and supply soaring, where are we headed next?
While it's not yet reflected in historical pricing—because the deals closing today were put under contract a month or two ago—we are beginning to see it impact pricing for properties currently on market. What was anticipated to be a general kind of stabilization is turning into a more sudden market decline and it's getting more difficult to get deals to stick. As a recent Cromford Report noted, a simultaneous buyer's strike and seller's stampede makes a price correction inevitable as we head towards a more balanced market.
How to Sell a Home in a Declining Market
Although "technically" we are still in a seller's market, increasing inventory, longer marketing times, and reductions are quickly turning the tables, and buyers have significantly more negotiability. Sellers need to be strategic if they want to sell, as buyers have more choices, or they are "out." 
While comparables may provide guidance, sellers need to carefully examine inventory levels in their submarkets to price appropriately so that they can secure a buyer. We're not in the position we were a few months ago, particularly in the $400K-$1 million segment.

Turnkey properties are faring the best, while those that need a lot of work are lingering on market a lot longer. It's more important than ever that a property looks good and clean and presents in a market-ready state. 

When you get offers, you need to work them. Although some areas still have high demand and low supply, it's not a time to shoot too high. 

Properties that are more investment-oriented and require significant rehab are particularly challenging—many are going under contract, only to fall out from inspection issues or an uncommitted buyer (who is waiting for a market bottom). Investors are not only dealing with higher labor and material costs, there's the ever-present risk of being able to find a buyer in a declining market.

We've also seen the reemergence of 2/1 buydowns offered by some builders to attract buyers. This option drops the mortgage rate by 2% for the first year and 1% for the second year, and costs around 2.2% of the loan amount at close.
Tips for Homebuyers
For buyers, the major hurdle is that financing is significantly more expensive than it was two months ago—so you need to run the numbers to ensure that you're making the right financial decision. If you are committed to buying, the clock is ticking on locking in your rate before the Fed makes further upward interest rate adjustments. 
On the positive side, there's a lot more choice and negotiability in the market for homebuyers. Cash buyers are the ones who really have the upper hand in a time when there are fraying nerves on the sellers' side. If a buyer really wants a property, this is a time to reduce or even eliminate their inspection, which is one of the biggest unknowns for eager sellers.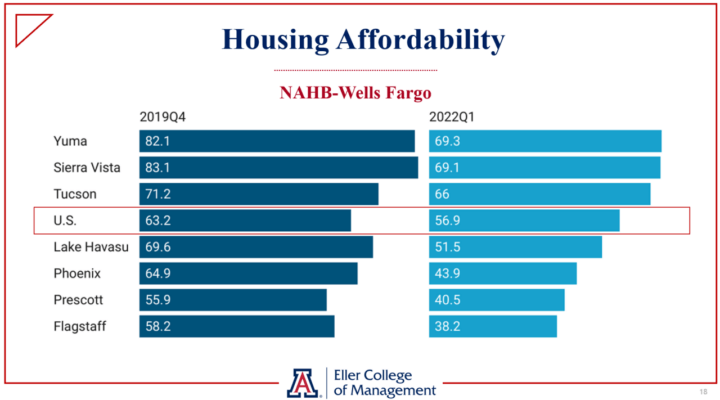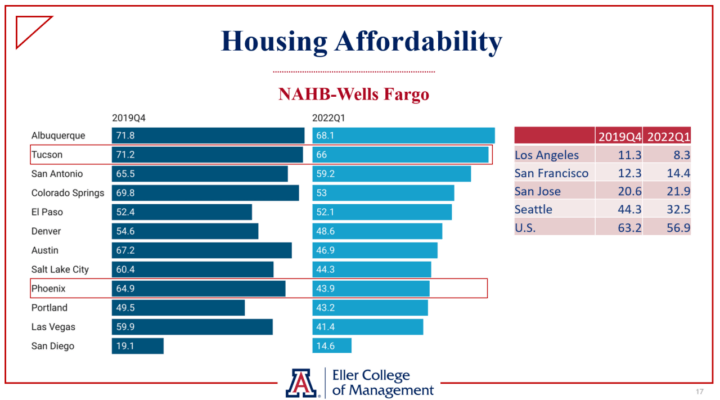 Phoenix Residential Real Estate Midyear Update
With supply rising and demand falling, the overall supply-demand index is now at a level not seen since pre-COVID and is declining rapidly toward a balanced state or even a buyer's market. About this time last year, we cautioned investors that ignoring what the market can bear in price and rent appreciation eventually leads to lower-than-expected returns or losses. Instead, iBuyers and Wall Street investors continued to buy and sell among themselves, pushing unsustainable appreciation and squeezing out the private sector. The recent sharp rise in interest rates has forced a day of reckoning, and a price correction is on the horizon. Whether the Federal Reserve raises rates by 50, 75, or even 100 basis points at the end of July, it will likely be painful.
Active Home Listings in Phoenix: Supply Up
Supply counts continue to soar every week with little signs of slowing down at this stage, a dramatic trend that started about 13 weeks ago. The impetus for this sharp turn of events correlates to the point interest rates passed 4.4% in March 2022. By then, rates had already risen 1.3% since December but did not slow down until April, when they rested in the low 5's until the first week of June. Demand under $400K has been diving, while supply over $400K has been skyrocketing as sellers rush to put their homes on the market before the good times end. Major components of current active supply increases include iBuyers OpenDoor and OfferPad (12%), LLCs (10%) and builders (13%).
Phoenix Home Sales Volume & Price
Demand—combining closed sales and listings under contract—is officially below normal for this time of year. As the supply-demand index races towards a balanced market (or even a buyer's market), many institutional buyers have pulled out, cancelled escrows, relinquished earnest money deposits and decided to sit on the sidelines for now. 
In the meantime, it's 3-4 months into the market shift and sales measures are finally starting to show meaningful responses. The sale price/list price ratio, which was 101.7% in May, is expected to fall to a normal range of 97-98%. The percentage of sales over list price in June was 46%, down from 56% in May. Sales price measures have stopped rising and stagnated. Seller concessions are expected to rise significantly in the coming weeks, signifying the final stage of shifting out of an aggressive seller's market and into a near-balanced market.
Contact ROI Properties for Expert Assistance
Whether you're looking to buy or sell a home in today's challenging, fast-changing market, the R.O.I. Properties team is ready to help. To put an expert advocate on your side, contact us at [email protected] or 602-319-1326.
Contact ROI Properties