Uptown Phoenix is a notoriously bustling part of Phoenix. With all of the new mixed-use apartments and condos, local boutiques, and some of the best restaurants in The Valley popping up all over Uptown, this location may seem out of reach for many potential homeowners. However, there is a new residential development which makes living in this exciting area actually affordable! Trellis@Colter is a sustainable, smart-home concept geared toward first time home buyers who make less than 120% of the median average income.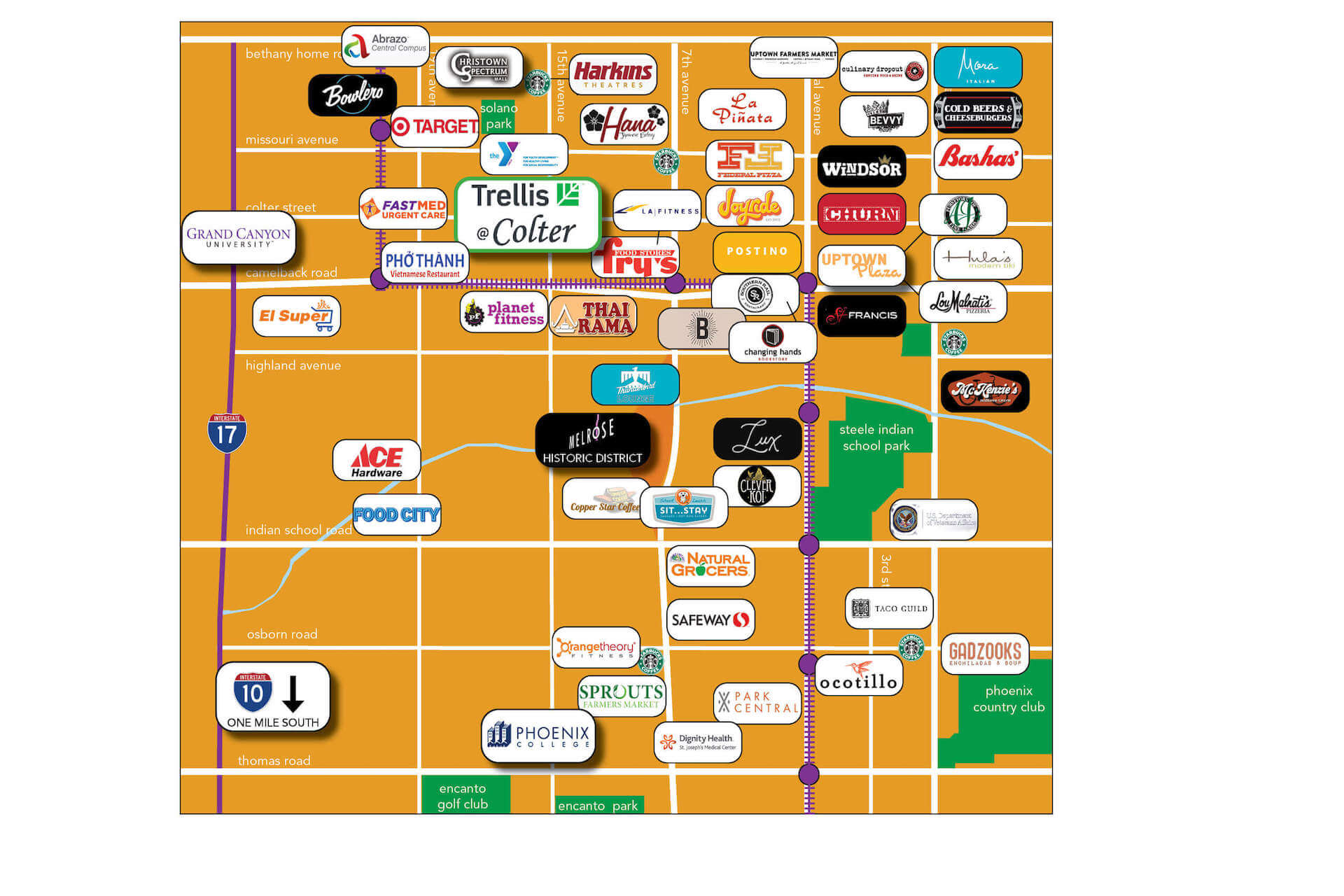 Trellis@Colter is one of the first projects in Phoenix to be zoned WU-Code Townhome, (City of Phoenix Walkable Urban code to increase walkability and ridership on rail and bus), which is perfect for its Uptown Phoenix location amid great shopping, wonderful restaurants, local coffee shops, and urban parks.
Uptown Phoenix is brimming with restaurants and bars, and the options are seemingly endless. Some of Phoenix's most celebrated dining destinations are just a short walk away including Cartel Coffee, Federal Pizza, Joyride Taco House, Postino Central, Lou Malnati's Pizza, Pho Thanh, Flower Child, and Windsor. Additionally even more options such as Lux Central, Clever Koi, HULA'S Modern Tiki, Cold Beer & Cheeseburgers, The Yard, Culinary Dropout and Mora Italian are all less than 3 miles away.
Centrally-located just one block to the light rail and minutes away from the freeway, residents will find the convenience of this location unparalleled. Easy access to Downtown Phoenix and Tempe provides residents with a plethora of world-class sporting and entertainment opportunities such as the Arizona Diamondbacks and Phoenix Suns, major concerts at Talking Stick Resort Arena,  the Phoenix Symphony and several Downtown Theaters. It is also a quick light rail ride to a number of Arizona's premier museums including the Phoenix Art Museum, the Heard Museum, Arizona Science Center, and the Phoenix Children's Museum.
Trellis@Colter is within close proximity to several college campuses including Grand Canyon University, ASU Downtown Campus, and the University of Arizona College of Medicine. It is also a straight shot on the light rail to ASU's main campus in Tempe.
Grocery shopping is a breeze when AJ's Fine Foods, Fry's, Bashas', Natural Grocers, Safeway, Sprouts and Food City are all nearby. Keeping healthy won't be a problem with health clubs like LA Fitness, Planet Fitness, and the YMCA within minutes. Medical and wellness facilities are such as Phoenix Baptist Hospital, St. Joseph's Hospital, and FastMed Urgent Care also within the immediate area.
Trellis@Colter provides an alternative to buyers who want the fun and convenience of living in Uptown Phoenix, while making a smart and affordable choice for their future. For more information on how you might be able to buy a home at Trellis@Colter with no money down, contact R.O.I. Properties at 602.319.1326 or visit us on the web at www.roiproperties.com/trellis-at-colter