At some point in their development, nearly every nonprofit organization faces the difficult decision of whether to rent or buy property. Making smart real estate decisions can have a significant impact on the health of organizations and on the quality of work they can do in their respective communities. That is why this week we are looking for an answer to that age-old question: Should you rent or buy?
There are benefits and drawbacks to renting. Likewise, while owning your property is usually a smart decision, there can be challenges that you should be prepared for ahead of time. Let us look first at the option of renting.
Renting Real Estate as a Nonprofit
Securing a short- or long-term lease on a property is one way for a nonprofit organization to create a footprint in their community. Here are a few of the benefits associated with entering into a lease agreement.
Flexibility. A rental agreement, as opposed to the purchase of a property, enables a nonprofit to test out a location to determine whether or not it best serves their mission agenda. Depending on the terms of the lease agreement, an organization may have the ability to negotiate an early termination clause, allowing them to vacate the lease under the right conditions, should an opportunity arise to move into a better location.
Lower Up-Front Costs. While leasing property requires some up-front expense, such as inspections, security deposits, and legal fees, the cost is most likely far less than the initial costs associated with purchasing property. In addition, lessees are typically not responsible for maintenance, which can add significantly to the total expense.
Long-Term Leasing and Renewal. When a nonprofit finds a suitable rental location managed by a benevolent landlord who is sympathetic to its organizational goals, it can choose to enter into a long-term lease agreement. Long-term leases allow nonprofits to become rooted in their community, similar to making a purchase. In some cases, nonprofits may even have the opportunity to enter into a net-lease agreement. A net lease is a typical arrangement for organizations leasing an entire building or piece of land that enables the tenant to retain greater control of the property. In turn, a net lessee is responsible for paying directly all taxes, maintenance, and operating expenses for the property.
Renewal terms typically allow tenants to prevent large or unexpected year-to-year increases in their rent and provides peace of mind that an organization can stay in their current location indefinitely.
Some of the drawbacks associated with renting office space or a property include:
Instability. Without full control over its rental property, an organization that is renting space may find itself in a situation where a landlord decides to sell the property or neglects to maintain it properly. When a lease agreement comes to an end, a landlord may opt not to renew, forcing the nonprofit to relocate.
Lack of Control. In a gross lease agreement where a tenant is responsible for rent payments only, a landlord has total control to dictate the maintenance and operation schedules for a property. Renters may also be subject to increases in their rent due to rising maintenance or operation costs or tax increases.
Moving Expenses. Businesses and organizations that rent their property typically have to move more often than those that own their space. Moving expenses can mount quickly relocations can cause significant interruptions to service delivery. Organizations can avoid incurring frequent moving expenses by entering into long-term rental agreements or by purchasing property.
Leasing may be the best solution for nonprofits that are at an early or transitional phase in their development, where flexibility allows them to relocate easily and test a location before making a purchase. But, as is often the case, organizations that experience the relative instability of renting see the advantage of purchasing nonprofit real estate in building equity and establishing a long-term foothold in their community. Here are some of the key considerations for nonprofits looking to purchase property.
Purchasing Real Estate as a Nonprofit
Before signing on the dotted line, nonprofit organizations need to make sure they done their research and due diligence. They should only consider purchasing if their finances are in order and they have a three- to five-year strategic plan in place. Securing a plan for the future will encourage potential investors and active board members to support the decision to buy.
Once a strategic plan is in place, nonprofits should seek the opinion of experts and their board of directors to determine the best path forward, to ensure that the new location is compatible with its mission and objectives, and congruent with the future vision of the organization. The next step is raising funds to cover the cost of purchase and relocation.
Fundraising for the purchase of real estate for Nonprofit can come in many forms.
Foundation Grants. There are nearly countless charitable foundations that disperse funds through grants to support nonprofits.
Capital Campaigns. Capital campaigns are the traditional source for nonprofit fundraising. They offer organizations the opportunity to engage with stakeholders, activate strategic alliances, and inspire fresh faces to get involved.
Donor Support. Appealing to major donors for key funding or establishing "challenge" grants can help jumpstart fundraising efforts.
Government and Bank Loans. Numerous government- and bank-funded loan programs exist to help nonprofits reach their full potential. Consult the experts to see which program is right for you.
Combined Sources. Given recent market volatility, it is important for an organization to diversify its sources of funding. A combination of grants, capital campaigns, and loans can help ensure access to future funding should one source dry up.
If an organization decides to pursue any number of loan scenarios, it will need to take the proper steps and provide sufficient documentation to secure a long-term loan. Typically, these requirements include:
Three years of financial records.
Three years of 990 tax returns.
Year-to-date financial statements.
A list of current donor accounts and pledges received.
Monthly budget projections for the upcoming year.
The decision whether or not to rent or own ultimately comes down to several factors. Organizational outlook, fundraising and grant opportunities, and market stability, among others, each play a part in determining the best path forward for any nonprofit. Be sure to take the time necessary to engage with experts, develop a plan to determine whether it makes more sense to rent or buy property.
Contact Our Expert Team Today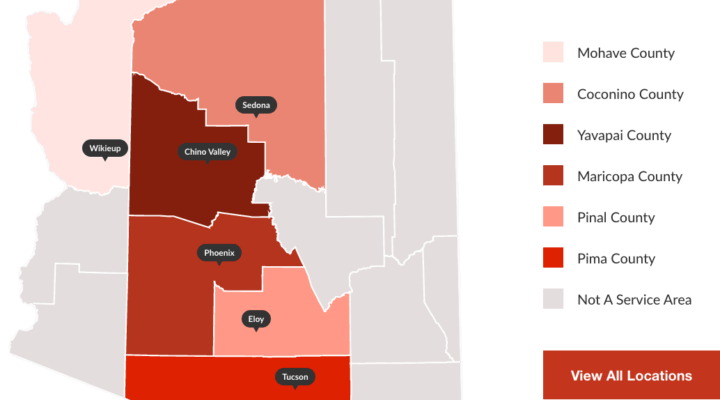 R.O.I. Properties is an experienced nonprofit real estate brokerage in Arizona who has decades of experience helping nonprofits find their ideal home. Contact our expert team today for a free assessment to determine whether buying or renting your dream space in Arizona is right for your organization.